The last task for the excavator was to open up a "back entrance" to the Logger's Retreat.
Prior to the fire, the only way to get heavy equipment like the Bobcat into the area behind the garage (including the path to the picnic area) was to actually drive through the garage itself.  The original owners had built a third garage door into the back of the garage specifically for this purpose.
While we still had the excavator available, we rearranged boulders in that area to create an additional driveway.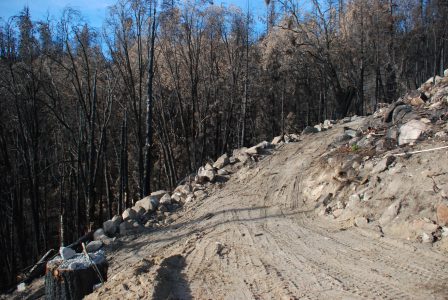 This new driveway meets the forest service fire road right next to where the old Sea Train storage container used to sit.
We are currently exploring the possibility of adding living space above the Logger's Retreat garage.  If that becomes a reality, we'll use this new "back entrance" as the main driveway for that second residence.