"Why does everything take so long? "
This question articulates the source of my frustration often in these early days after the fire.  On good days, we make progress.  On bad days all I have is frustration.  Fortunately, (so far at least) the days of progress are encouraging enough to help me through the days of frustration.
Much of that frustration comes from the nagging knowledge that we have so much to do, so far to go, and time is of the essence.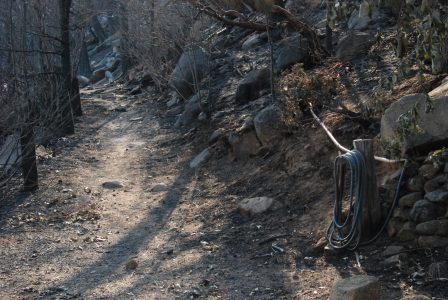 Winter is fast approaching.  While the Logger's Retreat is "not available" for at least a year or more, the Trestlewood Chalet still has a calendar full of reservations. Winter can be challenging even in the best of circumstances. But now we have lost a key part of our infrastructure.
How will I keep the driveway clear of snow, without the Bobcat and its attachments?  Even with that equipment, last year it took me 2 full days to clear the driveway after a storm dropped nearly 4 feet of snow on the area.  Now I have little more than a few snow shovels and an old, temperamental snowblower in the garage.
So much to do. So little time!