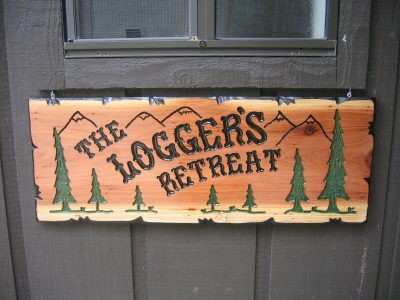 Here we document the history of The Logger's Retreat vacation home, before, during and after the Railroad Fire of 2017.
Shortly after noon on August 29, 2017,  a wildfire started nearby and below the property in tinder-dry national forest land. As in much of California, the surrounding forest was filled with dead and dying trees, victims of years of drought and bark beetle infestation.
Winds quickly pushed the flames up slope and north toward the small town of Fish Camp.  Within minutes the Logger's Retreat became likely the very first of 17 structures lost in that fire.
Two neighboring houses on properties immediately adjacent to the Logger's Retreat surely would have been lost too, were it not for the efforts of our neighbors and dedicated first responders.
Despite this tragic loss of our home we are grateful to them for their skills and hard work; efforts that certainly saved many more homes in the area from a similar fate.
As part of our recovery from the fire, we do plan to rebuild the Logger's Retreat.  In these pages you can follow our progress on that plan.  While we rebuild, we know the surrounding forest will be recovering too, and we look forward to seeing that process unfold before us as well.